Our family Schnauzer named Shadow has a big dog personality. When you watch him play at the dog off-leash park the first place he runs is to the group of dogs twice his size. Shadow thinks he is a big dog.
Shadow is from a long line of champions and won Best in Breed in 2004. Since then he has been happy to be a family dog and is dearly loved by 4 children.
Schnauzer lovers worldwide enjoy these gifts: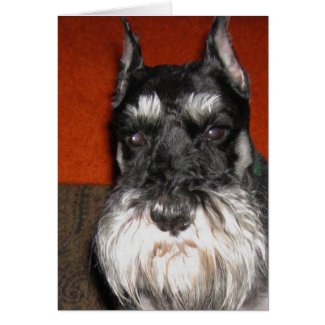 Schnauzer Note Card
by
gramabarb
Design your own card
at Zazzle
Schnauzer collectors love wrapping paper and many other items for gifts.
Schnauzer Dog Wrapping Paper
by
gramabarb
Shop for another
Zazzle gift wrap paper
More Schnauzer gifts are available
:
Schnauzer iPhone 5/5S, Tough Xtreme iPhone 5 Cover
Schnauzer Playing Cards - 11 styles
Schnauzer Mugs
Schnauzer U.S. Postage Stamps
Schnauzer Pet Clothing
Schnauzer Stickers
Schnauzer Classic Watch
Schnauzer Flexi Magnet
Schnauzer Bandana
Schnauzer gifts have traveled to Canada, SC, MD and NY.
Couldn't resist sharing this Schnauzer stuffie with you.